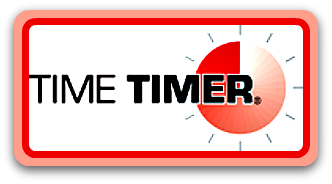 I need more time. I bet you do, too. It's impossible add minutes or hours to the day, so the only answer is to be a good steward of the time we have.
As a parent, part of my job is to teach my children to manage their time well. That's hard to do if I can't manage my own time. I'll be honest, I have not done very well with that this year. When I try to fit too many things into a small amount of time, it just doesn't work very well.
You can imagine how glad we were to receive the Time Timer! It's great to have a concrete time teaching tool like this available.
I had one question that needed to be answered right away.
Does it tick?
I really can't stand ticking clocks. Neither can my husband. I was surprised and very happy to learn that the Time Timer does not make any ticking sound! What a relief.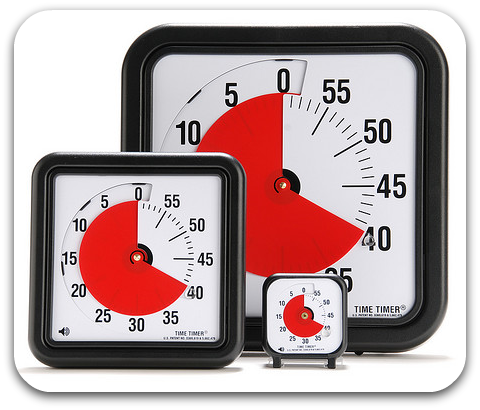 The most helpful feature of the Time Timer is that my children can actually see the passage of time. With it's patented red disk, the Time Timer helps children gain a concept of time. It was developed by Jan Rogers over 20 years ago to help her inquisitive four year old grasp time.
The product is very easy to use, and my girls quickly took it over as their own. There are so many possibilities for using the Time Timer:
clean up time
homeschool
homework
reading time
TV or computer time
pretend play
cooking
The 3″ model has a protective cover that also doubles as a stand. When we first received it, I was a bit concerned about durability, but the Time Timer has not had any trouble with my girls repeated use. The ending signal is not super loud, which can be a pro or a con depending on your perspective. The Time Timer also has an option for turning of the ending signal.
The Time Timer is used frequently in schools and is excellent for those who have special needs.
In addition to the 3″ Time Timer, there are also 8″ and 12″ models available. In addition, there are watches, apps for iPad, iPhone, and iPod Touch, and computer software for teaching time. You can see their whole line of products here.
The Time Timer 3″ is available for $30 at www.timetimer.com.
My fellow TOS Crew members reviewed the Time Timer, as well as the iPad app. Visit the TOS Crew Blog to read more!

 Disclosure: We received the Time Timer 3″ free of charge for the purpose of this review. No other compensation was received, and the opinions expressed are my own.