My six year old likes to stay busy. She's a hands on learner, and the average worksheet has never held much appeal for her. Last year we reviewed All About Reading Pre-Level 1, and she absolutely loved it. The opportunity to review Level 1 of the same program was an absolute gift!
I had very high expectations of All About Reading Level 1. Having used both the Pre-Level 1 as well as All About Spelling 1, I knew that All About Learning Press produces incredible products. That being said, I wondered if this new level would hold the attention of my daughter, who loves new exciting things. Could they hold her interest for a second level?
When the Deluxe Interactive Kit arrived in the mail, I was completely impressed. Level 1 takes the great types of activities and lessons that we loved in the previous level (but at higher difficulty, of course) and combines them with the All About Spelling letter tiles for a complete reading curriculum to fit any learning style. The multisensory approach uses sight, touch, and sound to teach the five components of reading:
Phonological Awareness
Phonics and Decoding
Fluency
Vocabulary
Comprehension
I can't recommend this one highly enough. Seriously.
I don't say things like that lightly. We have tried a lot of different reading programs. This one is truly a gem. Completely worth the investment, in my opinion.
The Deluxe Reading Interactive Kit ($48.95) is a one time purchase which will be used for all the levels includes everything you would receive in the Basic Interactive Kit ($28.95):
and includes three additional components: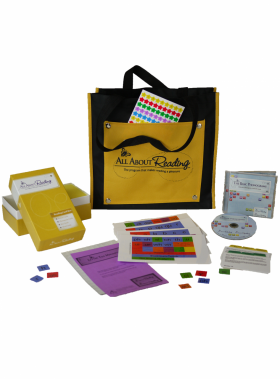 We also received the All About Reading Level 1 Kit ($99.95), which includes:
1. Teacher's Manual 
 (sample)
2. Student Packet (includes Activity Book) 
 (sample)
3. Run, Bug, Run! reader 
 (sample)
4. The Runt Pig reader 
 (sample)
5. Cobweb the Cat reader 
 (sample)
Click the links above for samples!
I really do encourage you to check this program out if you have children who are ready (or almost ready) to learn to read. It's such a solid curriculum from a company that offers great customer service!
To read what my fellow TOS Crew members have to say about this product, click here.
Disclosure: I received this product free of charge for the purpose of this review. No other compensation was received, and the opinions expressed are my own.
Erin